And then… one day I wanted to wear it differently.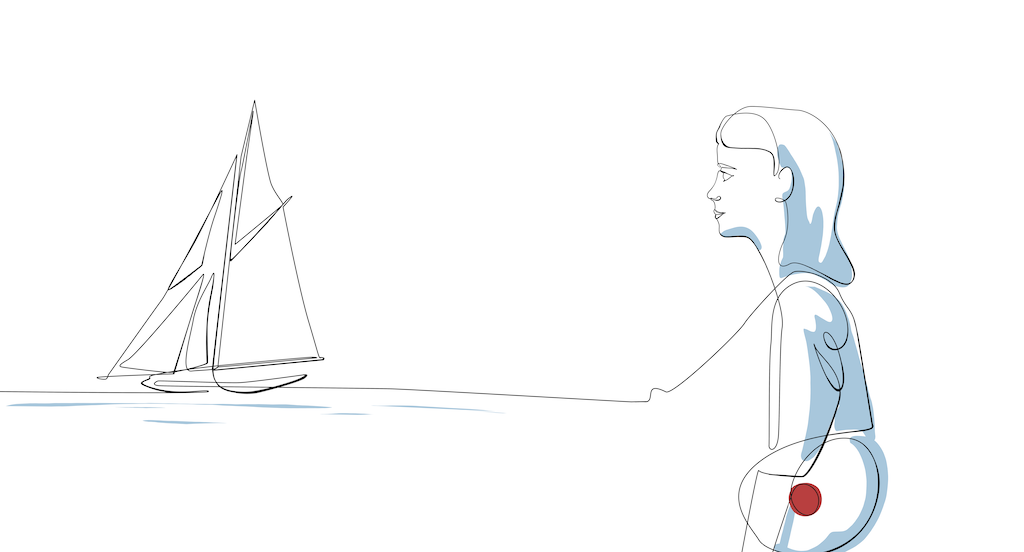 We
We are our first fans, the desire to share models made in France and atypical that make us vibrate and create emotions.
Bold and technical pieces, but also creative and timeless worthy of our French know-how!
Our bags are rational as our state of mind, our determination to make beautiful and different but useful bags in connection with our time and which are constantly reinventing themselves.
Our inspirations:
"Solange Garnier, Japanese art, the sea, other leather goods manufacturers, our lives"
Me
Laurence, I was born in Normandy, after living in Paris, I now reside in the south of France.
I am self-taught and in perpetual motion. Out of the divide, I break the lines and put a crazy energy into what drives me.

MARGERèNE is my story. Like a spell that had been cast on me, almost traumatic.
One day I received as a gift, a lucky charm … a marine tassel. A symbol that still accompanies me today and an opportunity that continues to renew itself.
I decided to materialize this story through my passion.
How about you? Turn your luck!
the labels of our partners
Our commitment
The respectful treatment of animals is essential to us, we do not have an exotic range.
That's why we only use skin from the food circuit and have opted to work with partners who are strictly standardized.
Our DNA is to be flexitarian.
We are only starting our story but our goal is to diversify our subjects.
Change is obviously putting less pressure on an industry.
Obviously we are open to modernity, quality, sustainability but above all we work with all our strength to limit the ecological impact of our products.
In other words, MARGERENE has chosen vegetable-tanned leather, upcycling, as well as all virtuous materials.
Our values
Le Made in France
We manufacture in our region of the south-west of the France, with the help of our partners who are all labeled EPV, (Entreprise du patrimoine Vivant), a guarantee of French craftsmanship.
Our commitment is to favor our local actors, today, more than 60% of our partners are less than an hour from us.
Sustainable Quality
Leather
Noble material for millennia, MARGERENE is faithful to this ancestral know-how.
We take care to select materials from the most demanding French and German tanneries in their manufacturing and traceability process. All our skins are R certified.E.A.C .H at least.
other known certifications: IVN, Biokreis (organic farming) e.V., ECARF, Iso 9001
The pompom
Our pompoms bring good luck, just touch them and want to… pungent. Learn more

They are made in France (Living Heritage Company Label) and trained by hand.
This know-how is unique.
The circular economy
Flax
We use 100% natural ecological flax for our linings which is grown and ennobled in France.
Source: CELC | European Confederation of Flax and Hemp
Packaging
Our cardboard boxes and protective pouches are not marked with our MARGERENE logo. That is our choice.
Recycling a carton goes through steps such as:
-collection,
-sorting,
-washing… Although we encourage this virtuous process, we at MARGERENE, we wanted to go further.
Bring these boxes and pouches to life by appropriating and reusing them.

Margerene